Premier Senior Member
SRD Member
Messages

2,540
Reaction score

1,998
Hello SRD and all painters! Today I'm going to show you guys how to make a simple base in Photoshop, and while it may not be the best out there, it looks like it could be out there on the track on any given Sunday. (y)
First off, open a template (duh). I'm using the BR13 Gen 6 SS from BER. (Good stuff by those guys by the way) So, we are going to create a new layer (Ctrl+Shift+N or the little icon next to the delete icon in bottom right corner, and move it to the layer just above the base. Select the Pen Tool (P) and start plotting points for a "Racing Stripes" look on the base, as seen here.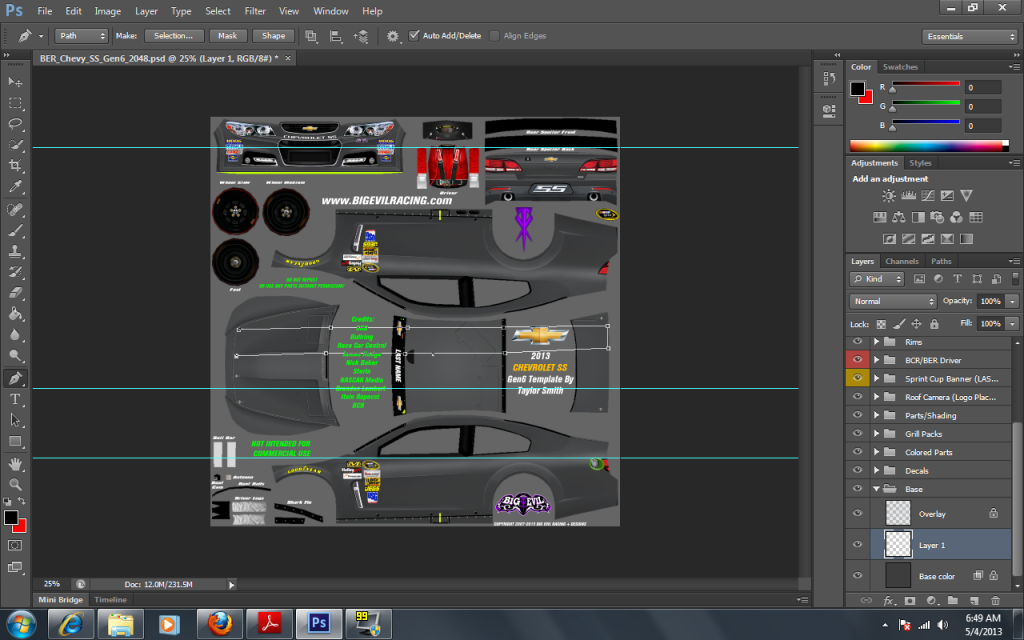 Finish plotting the points around, close it by clicking the original point, right click, and choose "Make Selection", then press enter.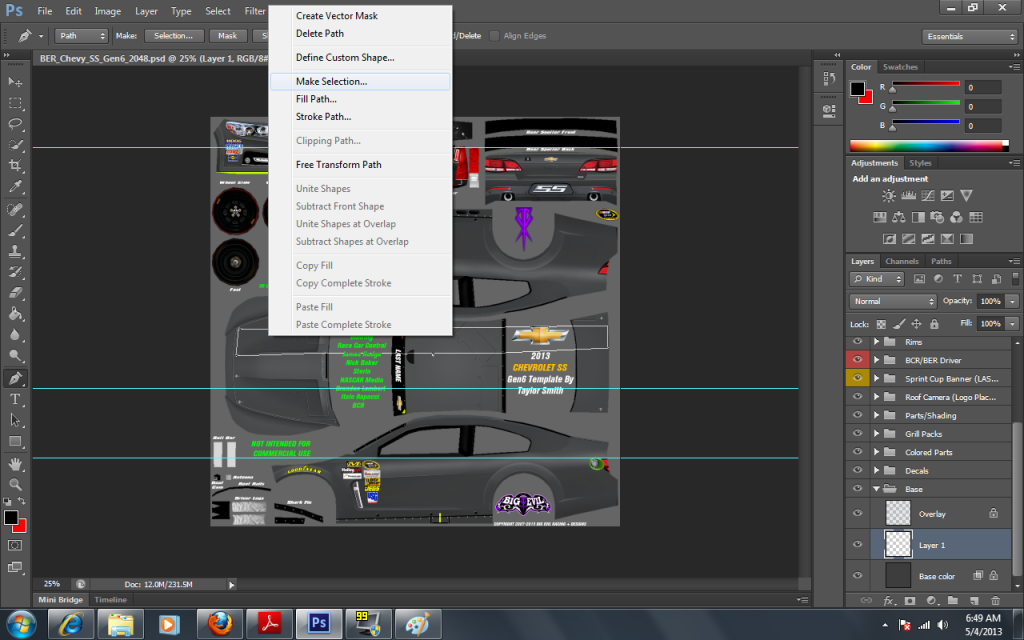 After clicking make selection, you should have something similar to this below: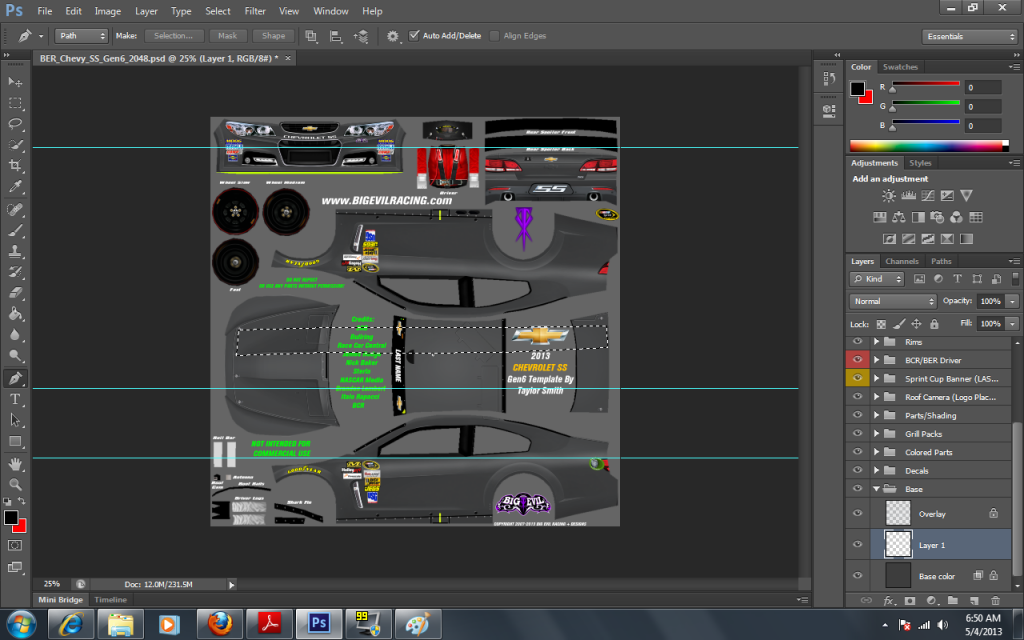 Select the paint bucket (G) and by default, it will be on Gradient Tool, just hold down the arrow in the bottom right of the icon, and select Paint Bucket when the popup comes up. After that, fill it with a color.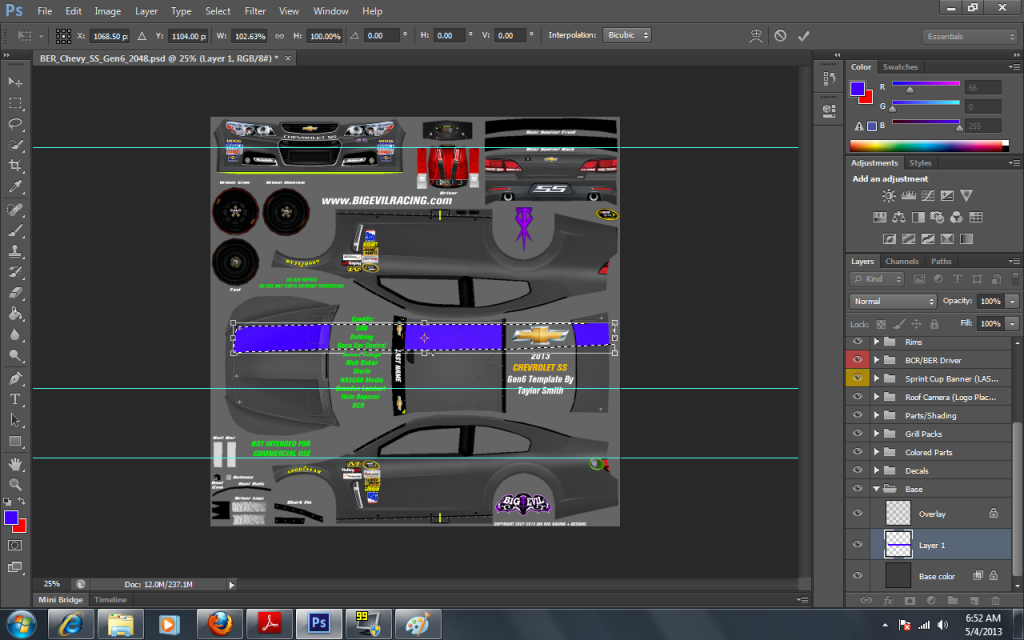 Then, to get the second racers stripe on the hood, you are going to press Ctrl+J to duplicate it, then Edit-Transform-Flip Vertical.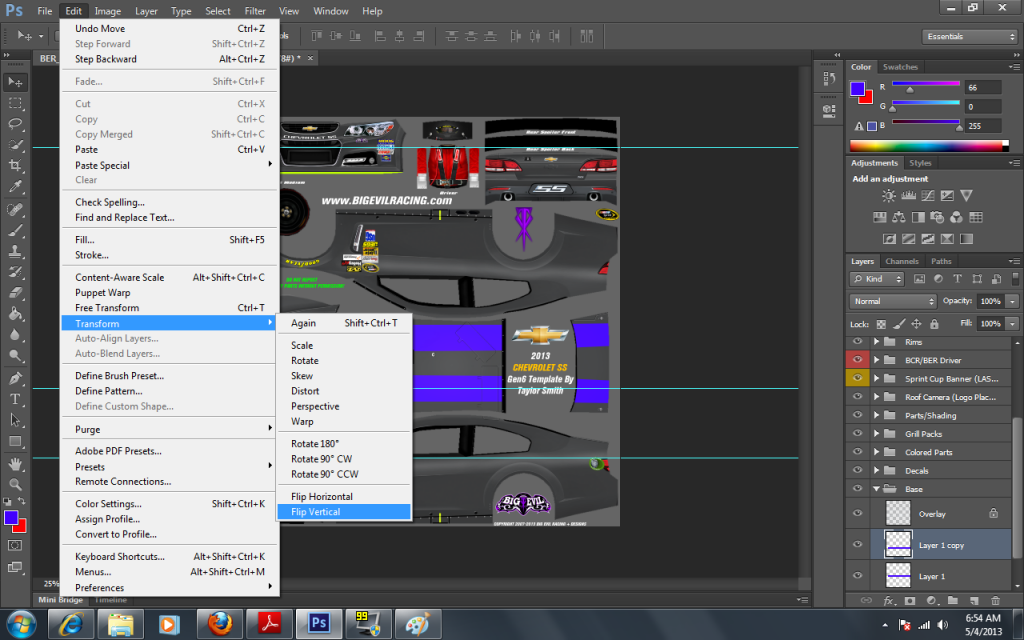 Now, we are going to put a cool little stripe on the side. Create a new layer, and select the pen tool. Plot points similar to what I have below.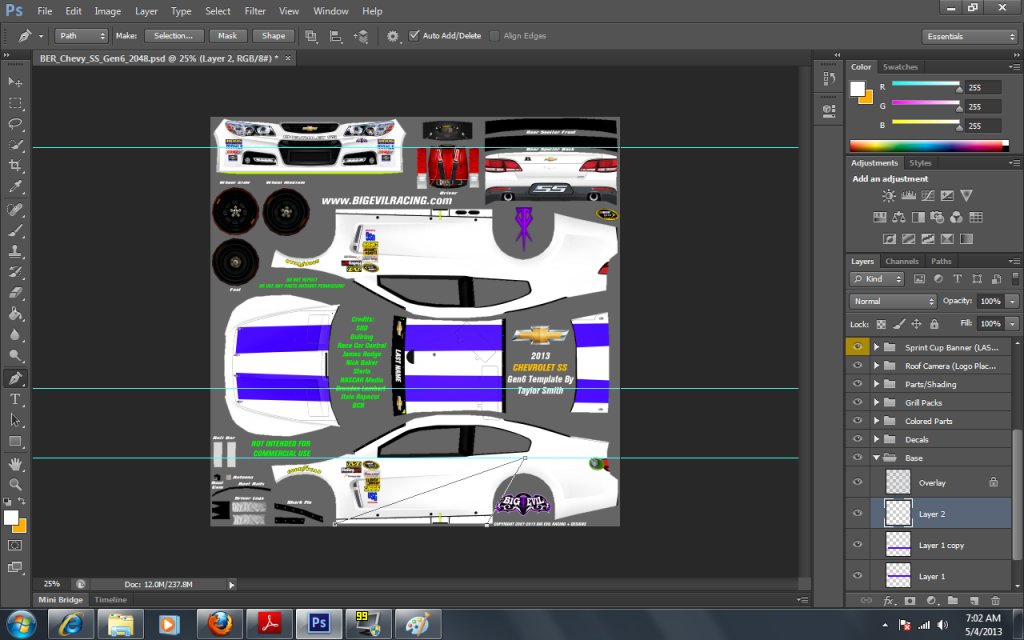 Now, hold down the arrow in the bottom right of the Pen Tool icon, and select Convert Point Tool.
Then, adjust the points as you please, and right click, make selection.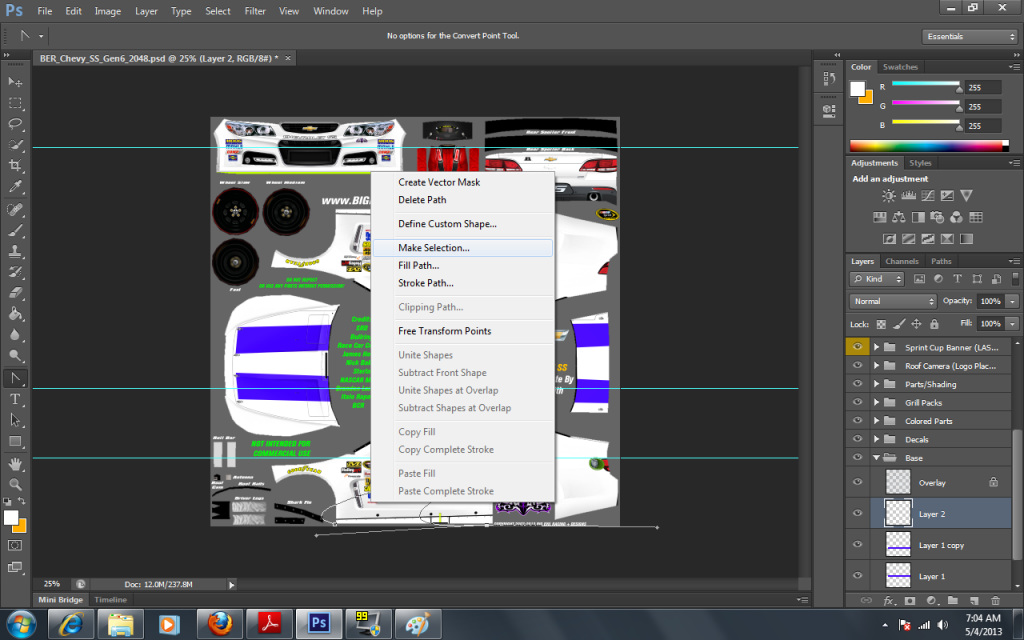 Now, fill it in with color using the paint bucket, and you may choose to duplicate (Ctrl+J) as I have in the picture and move them, or use a single one. Personal preference.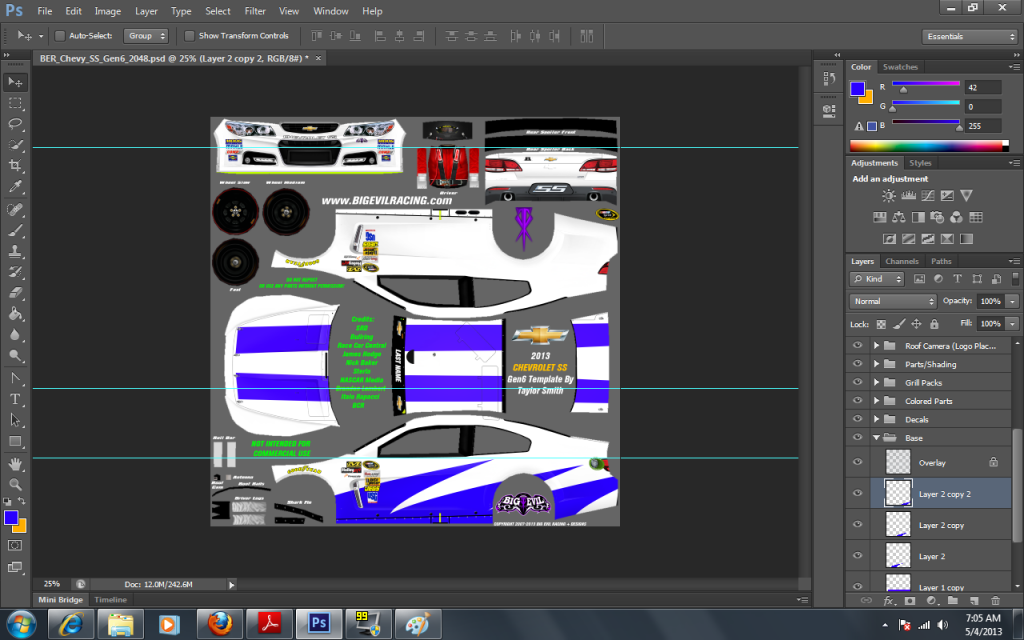 Now, we are going to give the shapes an outline. This is called a Stroke. Double click the layer, head down to stroke, check it, then adjust as you please.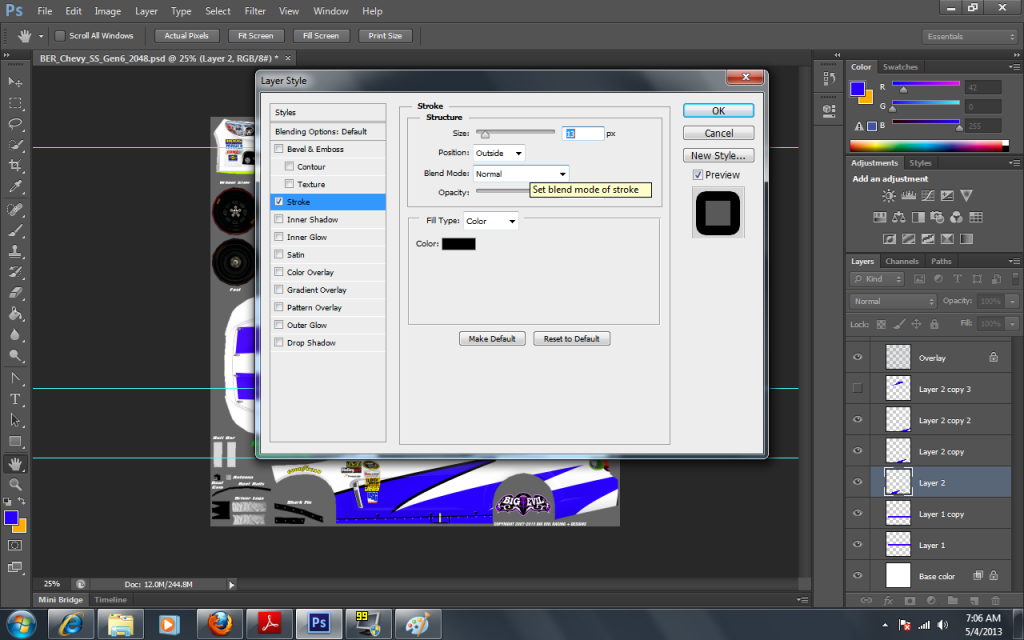 Now, I do the same to the racers stripes on the hood, and I also stretch them out to where the go all the way to the bottom of the hood using Ctrl+T, holding shift, picking the leftmost point, and pulling it out.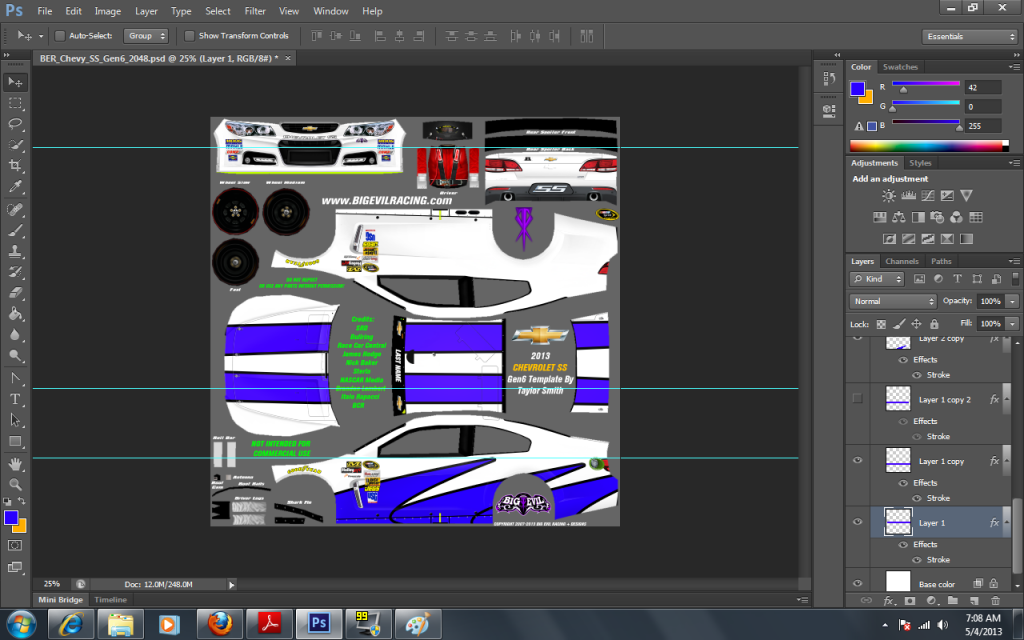 Now, that's it for my tutorial! To get the stripes to the other side of the car, just duplicate them and move them over. Most/all templates have a wiremesh layer, use that to line them up. You know have a good base to start with. Place logos, numbers, and other small details, and you've got a great car! Now, go get painting!